He who dwells in the shelter of the Most High will rest in the shadow of the Almighty. – Psalm 91:1           
I come to the Garden alone, while the dew is still on the roses,
And the voice I hear falling on my ear, The Son of God discloses,
And He walks with me and He talks with me,
And He tells me I am His own.
And the joy we share as we tarry there,
None other has ever known.
Sometimes I have wondered if I have not been wise to spend so much money on flowers for our patio. Petunias, day lilies, and herbs cost a great deal–even seeds do these days! But when I see the flowers and herbs take hold and begin to thrive, they thrill my heart, and when I stand at the sink to wash dishes, I am thrilled with what I see through the window.
This morning I took the risk to go out before Ron awakened. It's a risk because he calls me and when he does, he expects me to come running, so I can get him out of bed and to the bathroom. Once he is up, there is a list of chores; pills, his coffee and a muffin, then his breakfast. By the time I am done with that, I have to begin preparing supper, doing dishes, laundry and the usual household chores every woman has to accomplish. By then, I have lost time to read devotions, knit, or write, or . . .
But today I took my coffee and a muffin and ventured out with Holly (our mini-schnauzer) to the patio. We have several comfy chairs there, and places for shade and for sun. I chose a shady place and looked at all the lovely flowers in bloom; I began to sing the above song in my head. The coolness of the morning refreshed my soul, and the cozy robe I had donned gave me a snuggled feeling. The flowers were perky and colorful, and they, too, started my day feeling oh-so-blessed.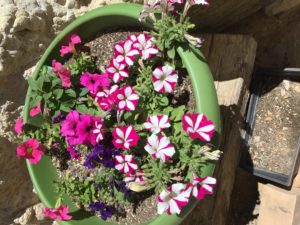 Come apart and rest a while, I thought. "Be still and know that I am God," I rehearsed the passage from Psalm 46:10. In the hubbub of this world, the demands ahead of me for the day, the dinner to be made, my Sweetheart's needs to be met, and the need to do something with my hair, etc., etc., were all quieted by the surroundings and the Biblical call to time alone with God in the beauty of His handiwork. Here in the mountains, the early morning sky is the deepest blue, and framed by the evergreen trees–the sight is magnificent!
Of late there has been so much to cause one stress;  the virus, the unrest of the country with screaming protests of racism, the incredible vandalism that can be seen on TV.  It seems that the evening news is all about this and the tragic death of a black man at the hands of four policemen. The pictures are shown over and over again!  Ron and I have decided to curtail the watching of it all, as it is far too stressful!
There are some comforting things however–even in the midst of the craziness. Yesterday was our Adylyn's 2ndbirthday. I prepared potato salad (as requested by my granddaughter) and took it to her party. The little tyke was exhausted, and when I arrived she was crying. I called her name, and up went her little arms for me to hold her. I picked her up and we sat on the sofa. She laid her head on my chest, and I began to rock and sing to her, "Jesus loves me, this I know, for the Bible tells me so." Bless her heart, she was asleep before I finished the second verse–there in the midst of noise and the confusion of the gathering, and comforted by arms of love, she stayed asleep for an hour.  What a joy for me, and a rest for her.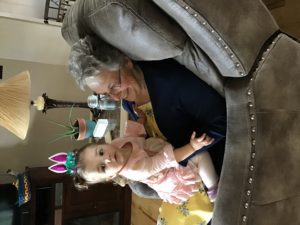 Yes, safe in the arms of Jesus we can weather the storm, whatever it is. Even a two year old knows that. Enveloped in the beauty of nature, we can be still and know that God is still in control. We can be refreshed and revived for the activity ahead of us, regardless of what it is.
Do take time out of your crazy schedule, regardless of how crazy or stressful it may be: time to enjoy nature, time to love on a child or adult who needs your love and attention. It will reduce your stress and be a blessing to those you work or live with. And take time alone in your sacred place for a time of refreshing. I will be in our garden or in the arms of my beloved Ron, my sacred places.