Welcome back to the history of Fixable Life (now Life Renewal)! Let's jump right back into our story!
As Ron and I learned and applied the knowledge we gained in our master's degree classes to ourselves, as we attended marriage workshops wherever we could find them; slowly, our relationship began to change. We encountered other couples, who like us could not understand how two people can love each other but not get along well. Here came a determination in our hearts and minds to be the help that so many others needed.
We began by holding "marriage weekends" with couples in the churches that Ron pastored. In New England we would take them to Cape Cod, stay in a motel and get in an excellent speaker. Then Ron and I would divide the folks into small groups and create processes for them to do in writing and share in the group. We found this to be very beneficial to participants. Once we graduated with our master's degrees, we bought a 15-room house in Southern Maine, which would become a Family Life Center for Couples. It had 9 bedrooms and a 15×30 living room for classes. But . . . after they took us off the roof at 2 am, we watched it burn to the ground. Our dream had gone up in smoke – literally!
For a year, we took another pastorate, but in a damp part of New England. I had suffered lung damage from the fire, and couldn't breathe in the extreme humidity, so we had to move to the Southwest's drier climate. It seemed that God wasn't done teaching us yet! We lived in New Mexico for nearly three years and moved on to another pastorate in Wyoming. After a year there, we moved back to New England, hoping that my lungs had healed. We had a Boston radio program (a call-in show) for a year, and a Family Life Center, and then moved on to Florida where we took another pastorate and began work on our doctorates. After three years there, we moved on to North Dakota as Pastor and Family Life Director for the Dakotas. We taught seminars all over the Dakotas and elsewhere in the U.S.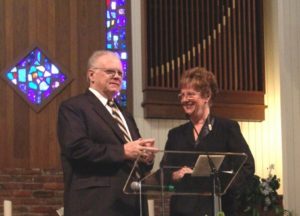 In 1995, we were called by Dan Matthews to "Faith for Today," a long-standing TV program by that title, and another TV Program called "LifeStyle Magazine." Here began our world-wide work. During our time there (10 years) we wrote "Binding the Wounds," our first recovery program, as well as the books Belonging and Chosen. We also bought our bus: a GMC 4107 "Buffalo Bus," and under the direction and help of Deb and Doug Haefner, transformed its inside into a thing of beauty and convenience. And then we "hit the road."
When Curt Dolinsky became the manager at "Faith for Today," he took over our scheduling, and out of necessity, we had to "fly the friendly skies" to places like: England, Scotland, Guam, Singapore, Russia, the Czech Republic, Caribbean Islands, Bermuda, Canada, etc. By 2005 we were tired! When a new director came to "Faith for Today," we decided it was time to retire. However, before retirement, a couple who had benefited from our work proposed that we work with them. Their goal was that we were to produce another recovery program–this time, based on the Bible but without Biblical chapter and verse–to be used in Social Service or prisons. It took us two years to fulfill contracts "Faith for Today" had made, travel to conduct newly scheduled seminars, and write The Journey. It was beautifully produced and funded by Jim and Ellen Foulke of Pennsylvania, and is, of course, still available.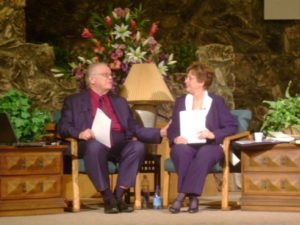 In the blog of this series, we will speak about some of the experiences God carried us through and the "why" behind our calling and determination to do this work. While illness (Parkinson's disease) has slowed us down, it hasn't stopped us yet. We cannot travel to teach, but hopefully books and recovery programs left behind will still help to transform others.